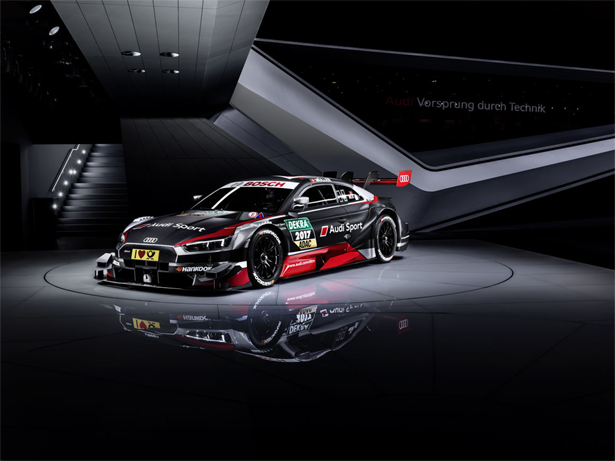 Clear the stage for an exciting new race car: At the same time as the production model, Audi Sport presented the DTM racing version of the Audi RS 5 Coupé at the Geneva Motor Show. The new RS design language premieres in this model that features numerous modifications required by the regulations as well.
"This is a special day for me and everyone involved in the DTM project," says Head of Audi Motorsport Dieter Gass. "For the first time, we developed a new DTM car in parallel with the production model. This underlines once again how closely motorsport and production work together at Audi." The track record of the previous-generation model sets benchmarks for the future. Having clinched ten victories in each of the last two seasons, it was the most successful DTM car in both years. "Obviously, we'd like to repeat this with the new RS 5 DTM," Gass adds.
Visually, the third-generation Audi RS 5 DTM clearly stands out from its two successful predecessor models. "It appears even more progressive and is even more extreme in terms of aerodynamics," says Project Leader Stefan Gugger. "In many areas of aerodynamics, we explored further detailed options." This is evident particularly in the area of the front end and around the rear wheel arches. On the race car, the distinctive single-frame radiator grill of the new Audi RS 5 consists of a very thin film. The restrictive DTM regulations allow the engineers the greatest latitude around the rear wheel arches. Accordingly, they have been trimmed for maximum downforce combined with utmost efficiency.
"In addition, we've improved the components in terms of accuracy of fit once again," says Gugger. "As far as gap dimensions are concerned, Audi has always stood out from the competition. Still, we've made another step that enhances aerodynamic performance." New as well is the rear wing, which now consists of two flaps. To increase the effectiveness of the Drag Reduction System (DRS), the entire wing is no longer lowered but, like in Formula 1, the top flap flattened – which is intended to produce even more overtaking maneuvers in future DTM events.